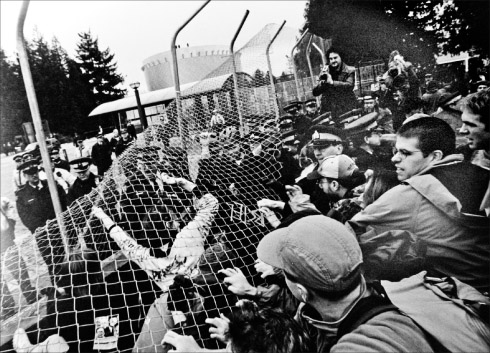 The 10th anniversary of the Vancouver anti-APEC protest took place back in November, the 25th to be precise, but even this late I wanted to post something in memory of what was a formative political experience for what became known as the alterglobalization movement and, in many ways, the precursor to the largely effective and successful protests of
Seattle WTO '99
(the 'Battle of Seattle'). By 'precursor' I mean not only that many lessons were learned from APEC and translated to larger actions at Seattle -- what I want to spotlight here are the media tactics which went on to inspire and inform what became known as
Indymedia
.
LISTEN //
[
CiTR : APEC RADIO : COMPILATION
]
//
As an undergrad student at UBC back in '97 I was heavily involved with the
CiTR 101.9FM
Nooze team. As well as providing coverage for months leading up to the event, including providing background on the issues involved, we reported directly on the actions of
APEC ALERT
, the anti-APEC activist organisation that staged a
series
of provocative and often Situationist-inspired actions -- including being there when
Jaggi Singh
, without warning, was thrown to the ground by plainclothes policemen, dragged off into an unmarked van, and thus pre-emptively 'arrested'. It's hard to imagine the atmosphere at UBC today: half of the campus cut off by a barbed-wire fence; helicopters overhead; snipers on top of the Chan Centre; the Student Union Building freed to become a space for teach-ins and sleep-overs; an activist tent camp in the park; armed vessels off the point; the Graduate Student Association building behind razor-wire with GSA members denied security clearance for
flying the Tibetan Flag
;
Craig Jones
, law student, arrested for holding signs saying 'Democracy' outside of Green College; and
CSIS agents
infiltrating every organisation -- including our own Nooze team. As the subsequent
APEC Inquiry
discovered, many of these actions breached
the Canadian Charter
and presented a grave betrayal of democracy in Canada.
November 25th: N25. Live-to-air, we covered APEC direct from the melee with analog and early digital cellphones -- a procedure largely unheard of with major news media at the time. Because of our communication savvy (and blatant eschewing of censorship and filtration, going direct to air, cellphone held to the sky), we got the jump on all the major news media when it came to quickly reporting the heavy-handed and sometimes violent response of tactical police units to the protests. Many protesters started tuning into CiTR to hear what we were reporting, as campus was so large, and by the end of the day, the strategic blockades so spread out, that information was a scarce resource (the protest 'managers' with their bicycles had been arrested early on for exactly these reasons -- to quash activist self-knowledge of the territory). So, Andrew Newman on our team was there and broadcast live-to-air the infamous and crude actions of RCMP officer Hugh Stewart who became known as "
Sgt. Pepper
" for his indiscriminate use of pepper-spray -- a coup for the underground press. I broadcast live-to-air the storming of the fence.
But more importantly, we were able to quickly transmit the ongoing action to the press convention centre which was located in downtown Vancouver & quite aways from campus. This direct contact and direct-to-air coverage meant that during the sparsely attended press conference with Canadian Prime Minister Jean Chretien, held much later in the day on November 25th, no other news outlet knew that the protests had dissolved into a series of skirmishes with police (the activists had realised early on that there were only three roads off campus for the motorcade: with activists blocking each roadway, one of the arteries was going to have to give).
Our information allowed our secret weapon,
Nardwuar the Human Serviette
to corner Chretien. (Nardwuar is a punk_style gonzo-journalist who now reports for MuchMusic, but already well-known for his crazy ability to dig up odd details on celebrities and for asking Gorbachev 'which world leader has the biggest pants?'). Nardwuar asked Chretien, in a round-about way, what he thought of the use of pepper spray against protesters. Chretien, amazingly, hadn't been kept up to speed by his own staff, and so he threw out the offhand wit, "Pepper? I put it on my plate." What was a throw-away remark to an oddball journalist became *the soundbyte of APEC*. The mainstream news then contrasted "Pepper? I put it on my plate" with the footage coming in from the mainstream news camera_people who, by this point, had been thoroughly doused in pepper spray themselves. The result was public uproar, an inquiry, intense reportage, and many, many questions as to the nature of surveillance and counterintelligence operations by State agencies against not only political protesters and dissidents but public journalists (such as CBC reporter
Terry Milewski
).
In short, though many don't realise it, CiTR provided the goods & stole the show. For our efforts, we received a
NCRA
radio award for broadcasting excellence but more importantly, the knowledge of indie media power was quickly disseminated as part of the alterglobalization infrastructure readied for Seattle '99. This is only one factor, of course -- one of the others being the connection made with Australia's anarchist media group
C@talyst
, who developed the participatory software that runs Indymedia online [1]. To this day Seattle is the favourite buzzword of many leftist intellectuals who, without pause, never saw it coming, weren't there to begin with, and now idealize it beyond belief.
//.
[1] Murray, Enda. 'Sound Systems and Austalia DiY Culture: Folk Music for the Dot Com Generation," in FreeNRG: Notes from the Edge of the Dancefloor, ed. Graham St. John. Altona: Common Ground, 2001. pp. 57-70.
//. thx to Sarah Efron, ex-CiTR Nooze Director, for posting online the APEC comp audio and to the rest of the Team for inspiring times: Newman, JJ, A.Friz et al.
posted. Fri - January 25, 2008 @ 03:18 PM