if not, winter :: released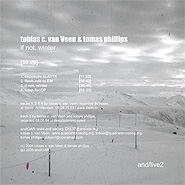 .. titles can be ominous, at least foreboding, if not foreshadowing and foretelling: when tomas phillips & I agreed on
if not, winter
for our collaborative effort of tenuous soundscapes & improvised terrains, named after
a recent re-translation
of Sappho's poems, we didn't think the release date would be suspended from spring 2005 until, it appears late summer and Fall -- after-all, "if not, winter" --
.. but as Kurt Vonnegut says, "and so it goes" ..
So, it's out, on Dale Lloyd's and/OAR
label
, as part of their and/LIVE series :
if not, winter
(and/LIVE 002)
.
(thanks to Dale for persevering .. )
.. it captures 3 tracks taken from hours of improvised sessions @
STEIM
in 2003 as well as a recording of tomas phillips & I live in 2004.
For those around in Montréal on August 26th, tomas & I are performing another live improvised session at a private studio. Contact me for details.
posted. Tue - August 16, 2005 @ 11:25 AM
|