word.age: e/i & Graduate Researcher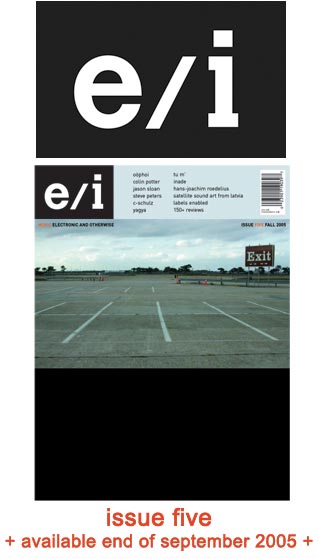 e/i
issue 5 is out : including from this department, "Postcards from the Zone," a piece focusing on Derek Holzer, Latvia's Karosta, K@2 and RIXC art centres .. here's Darren Bergstein's byline:
Out of disused military spaces parched by the sharp air of Latvia, a group of sound artists and scientists look to forge a new acoustic space of dreams. Guided by Derek Holzer, these digital interventionists are using an abandoned KGB telescope array to encode their own brand of subversive telemetrics. tobias c. van Veen reports in from under the radar.
Indeed.

And while I am at it, a new piece in
The Graduate Researcher
entitled "(Code + City + Counterstrike) ąÖ Flow." It's all about psychogeography, Counter-Strike, code, quantification, the
Temporary Autonomous Zone
,
Koyaanisqatsi
&
Wilfried Hou Je Bek's Psychogeographic MarkUP Language (PML)
.
Download the [
.PDF
]./
Check out
Volume 3
[also in print ].
From the abstract:
1. The grid of architecture, social planning, movement and bodies finds its isomorphism in computer circuitry and videogaming. In both cases, architecture (hardware or urban) operates in a feedback relation with flesh (bodies or the software-gamer combo). And, in both cases, a digital condition pervades the general structure of the distinction between material and immaterial experience.

2. Psychogeography-a stroll around and about this organized circuit of movement, urban or digital binarism, whether immersed in the game of real life or "virtual" death.

Mediating in and between, also playing the game of academic and artist, theoretical mime, half tongue-in-cheek, I'm drifting through a series of paragraphs.
I've also got an earlier piece, "It's Not A Rave," in
Volume 1
: [ .
PDF
] .
../. ././.
posted. Wed - October 5, 2005 @ 11:55 AM
|
..ziP:
./them.hallucinates./.
.this blog sketches patterning / [tV] -- everything here is in-progress, often a mess of thoughts and poorly edited grammar.

2005.projekts
- [11.1o-14.o5]
SLSA Chicago
.
- [11.o3.o5]
Upgrade! Montrą©al
@
SAT
- [1o.13.o5]
control.to.chaos
djing @
Saphir
w/
Fishead
et
Level 4 Productions
.
- [o0.26.o5]
Beat Research
, Boston. [dj set].
- [o9.24/25.o5]
Upgrade International Gathering
, NYC @
Eyebeam
.
- [o9.22.o5]
The Upgrade! Montreal
, @
SAT
, 18h00-24h00, DONATION. Benefit for
Critical Art Ensemble & Robert Ferrell
with
Artivistic
&
[CRTL]
conferences.
-[o9.21.o5]
Where's the Beat
,
CKUT 90.3FM
, Montrą©al.
- [o9.o1.o5]
Cabanon Artivistic Fundraiser
/
controltochaos.ca
w/ FISHEAD dj set + others. | MTL, 2025 St. Laurent.
- [o8.26.o5] (()) : a series of live micro-amplified electronic performances in local studios. live set w/ tomas phillips, john phillips. contact for invite.
- [08.18.05] : FullPleineMoon Party w/
DJ Fishead
.
- [o7.28.o5]
The Upgrade! Montreal
, @
SAT
, 18h00-22h00, FREE. Featuring
in & out of the studio
conference artists.
- [o6.23.o5]
The Upgrade! Montreal
, @
SAT
, 18h00-22h00, FREE.
- [o6.21.o5] Full Moon Party [MTL] w/
Jon Vaughn
+
Carrie Gates
(SK). e for invite.
- [o5.18.o5]
Doublethink
- Orwell/Huxley NFB Happening [MTL]: performance of the Punishment Intensive SoundSystem (PISS) with
Fishead
and
Black Market LIVE
. Performance art,
Bioteknica
,
Hate Orgies
, competition debating. e for details.
- [o5.o7-o8.o5]
THE SINUES OF THE PRESENT: GENEALOGIES OF BIOPOLITICS
@ Universite de Montreal. Plenary speakers:
Brian Massumi
,
Natalie Jeremijenko
,
Bioteknica
. On a panel w/
Nick Dyer-Witheford
. Should be interesting.
- [o5.o5.o5]
mix_Sessions
MDCN: mobile music @
SAT
, 22h00-24h00, djing with
colin the mole
&
VJ Beewoo
.
- [o5.o5.o5]
The Upgrade! Montreal
, @
SAT
, 18h00-22h00, FREE. With SonicScene /
MDCN
artists.
- [o5.o5-o8.o5]
MDCN Symposium
@
SAT
.
- [o4.19.o5]
The Upgrade! Montreal
, @
SAT
, 18h00-22h00, FREE. w/ Alain Thibault,
Elektra
.
- [o3.17.o5]
The Upgrade! Montreal
, @
SAT
, 18h00-22h00, FREE.
- [o2.17.o5]
The Upgrade! Montreal
, @
SAT
, 18h00-22h00, FREE.
- [01.20.05]
The Upgrade! Montreal
, @
SAT
, 18h30-23h00, FREE.
- [12.31.04/05] NYE. email me for details.. djing [vancouver]. [maybe?].
archival.projekts: 1994-2004
.. @rchives //
XML/RSS feed.me //
numbers that mean little:
absolut numerosity..:

...puplished 0n: Dec 02, 2005 12:38 AM