On April 11th / 08 I will be speaking at the
Programmable Media II
conference hosted by
PACE Digital Gallery
, NYC. The event is organised by
Turbulence.org
as part of their
Networked_Music_Review
and
Networked_Performance
projects that aim to document the evolution of performance & sound in network culture. I'll be dialoguing on the relationship between the ears & the eyes, or sound performance and the visual, on a panel featuring others including
Helen Thorington
,
Adam Nash
(speaking from Second Life, no less) &
LoVid
. [
bios of participating artists
]
Friday April 11th, 10am_6pm (EST)
Pace University
, Multipurpose Room,
1 Pace Plaza
Second Life
- 10am_6pm (EST) at
this link
.
Turbulence has been commissioning net & technology arts since 1996 (!), and before that Turbulence (aka
New Radio & Performing Arts
) was behind the
New American Radio
series of national radio-art broadcasts. As the curators & minds behind Turbulence, Helen Thorington & Jo-Anne Green deserve more than can be said here for supporting up-and-coming artists in the technology arts and for providing inspiration, infrastructure & wisdom ...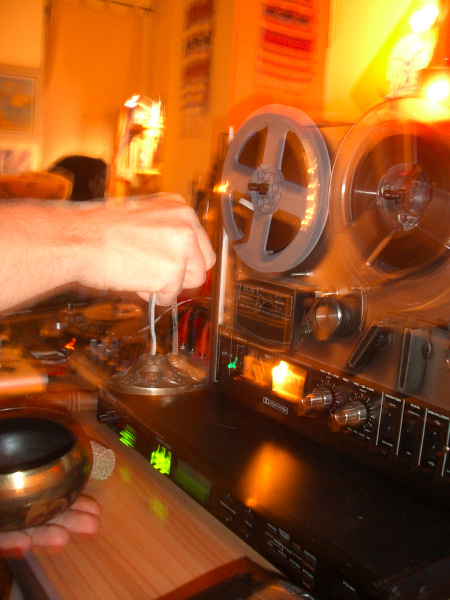 Part of my involvement with the conference stems from a sound-art piece, [ 'til death do us a part], investigating 'networked sound' commissioned by Turbulence... The twisted evolution of the concept went through a metamorphosis for me as I pondered what love might mean for machines, or that for machines to communicate, they must begin with love (*by love I think I mean, something from the raw intensity of anger to zen companionship -- somewhere inbetween is the erotic).
I didn't want to tread into the digital realm, as so much of Work is a digital interface these days that I wanted my human experience with machinic love to have the intensity of a hands-on relationship. Thus I ended up turning to reel-to-reel machines & the experiments of
Konstantin Raudive
with blank media in his attempt to record & communicate with the 'voices of the dead'. (I had no idea at the time that
John Hudak
was exploring similar terrain -- though in the digital realm -- for his Turbulence commission,
Voices from the Paradise Network
.) This led to a series of investigations of the sonic realm arising between two networked R2R machines, a simple mixer and a DSP processor (to add spatialization and stereo channel manipulation to sometimes mono signals). These investigations revealed a performative realm, a space to improvise and develop a capacity to 'play' the machines, or rather tweak & twiddle their hard knobs into spasms of ecstasy, cries of joy &, at times, moans of despair. The machines sang to me & each other, & I was drawn into the deadzone... the project launches live on April 11th & I will blog it here.
../ ../ ..
posted. Thu - April 3, 2008 @ 01:59 PM